WORST CASE HOUSING NEEDS 2017 REPORT TO CONGRESS
Release Date:
August 2017 (92 pages)
Posted Date:
August 9, 2017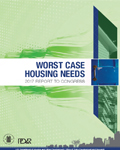 This Worst Case Housing Needs report is the sixteenth in a longstanding series providing national data and analysis of the critical problems facing very low-income renting families. Households with worst case needs are defined as very low-income renters who do not receive government housing assistance and who paid more than one-half of their income for rent, lived in severely inadequate conditions, or both. The report draws on data from the 2015 American Housing Survey (AHS), which debuted a major redesign that included a new national and metropolitan area longitudinal sample. We find that benefits of the strengthening national economy are not adequately flowing to renter households at the lowest income levels and severe housing problems are on the rise.

This report is part of the collection of Affordable Housing & Worst Case Needs Reports to Congress reports.
Click here to access the latest report in this series.