Prevention Programs Funded by the Homelessness Prevention and Rapid Re-Housing Program
Release Date:
August 2015 (332 pages)
Posted Date:
November 2, 2015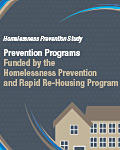 The Homelessness Prevention Study documented the first-ever large-scale implementation of homelessness prevention efforts—the prevention programs funded by the Homelessness Prevention and Rapid Re-housing Program (HPRP). Launched in 2009 to help American families survive a deep recession, HPRP distributed $1.5 billion in grant funding to 535 states, counties, cities, and U.S. territories; approximately 2,500 other entities, mostly direct service providers, were subgrantees. This report describes communities' experiences with HPRP prevention programs and draws lessons for future efforts to prevent homelessness. It also identifies gaps in knowledge needed to support future policy development. As such, this report offers useful information to practitioners, researchers, and policymakers interested in homelessness and the prevention of homelessness.
Click here to view the executive summary