Worst Case Housing Needs of People with Disabilities - Supplemental Findings of the Worst Case Housing Needs 2009:Report to Congress
Release Date:
March 2011 (28)
Posted Date:
March 24, 2011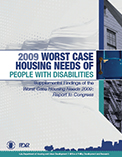 This study presents national estimates of the number of households that include people with disabilities who have worst case housing needs and presents their characteristics. It provides a supplement to the Worst Case Housing Needs 2009: Report to Congress, released in February 2011.
People with disabilities face additional burdens to finding safe and affordable housing for several reasons, such as being subjected to housing discrimination and encountering limited availability of accessible housing units. This supplement responds to the need to improve the estimation of the number of people with disabilities with severe housing needs and address the known undercount of past estimations. This supplement also analyzes the extent to which new direct questions on disabilities, added to the 2009 American Housing Survey (AHS), improve the estimation of people with disabilities and it discusses remaining limitations toward identifying people with disabilities with severe housing needs using this survey.

This report is part of the collection of Affordable Housing & Worst Case Needs Reports to Congress reports.
Click here to access the latest report in this series.