Officer Next Door (OND) And Teachers Next Door (TND) Program Evaluation
Release Date:
June 2004 (165 pages)
Posted Date:
June 1, 2004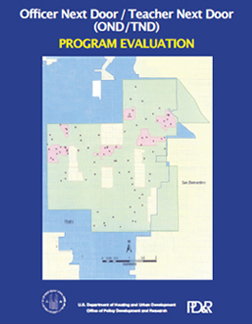 The Officer Next Door (OND) and Teacher Next Door (TND) Programs were created to strengthen America's communities by encouraging law enforcement officers and school teachers to live in low and moderate-income neighborhoods which have been designated as Revitalization Zones by the U.S. Department of Housing and Urban Development (HUD). At its inception in the late 1990s, it was hoped that the OND/TND programs would improve the quality of life in distressed urban communities. With respect to police officers, it was hoped that their presence as residents in distressed communities would reduce crime levels and thus "promote safe neighborhoods." With respect to teachers, it was reasoned that distressed communities would be strengthened by the example of how these caring persons live their lives.