Faith-Based Organizations In Community Development
Release Date:
August 2001 (35 pages)
Posted Date:
October 25, 2005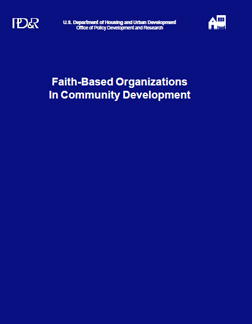 The extent to which faith-based organizations (FBOs) have been involved in social service, community development, and housing programs is not well understood. This report draws on interviews and research of knowledgeable scholars and practitioners in community development, and summarizes the current state of knowledge, the policy conclusions, and the major questions that ensue. Key findings include an overview of the non-worship activities of FBOs that highlights the diversity of activities they have undertaken and offers insight into their organizational capacity. The report also compares what community development corporations have learned about requisites of effective community development practice with the organizational capacity of FBOS. The implications of these findings for policy and research opportunities are explored.
FULL TEXT:

Adobe Acrobat (*.pdf, 351 KB)
Executive Summary:

HTML