Implementing HUD's Energy Strategy
Release Date:
December 2008 (74 pages)
Posted Date:
January 19, 2009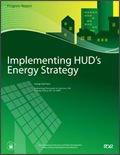 The U.S. Department of Housing and Urban Development (HUD) has made progress in several areas toward fulfilling its commitment to promote energy efficiency in HUD's inventory of public and assisted housing, as well as in housing financed through its formula and competitive grant programs.
In its August 2006 report, Promoting Energy Efficiency at HUD at a Time of Change, HUD identified 25 key actions to accomplish its objectives. The underlying goals of HUD's Energy Action Plan, first announced in the 2006 report, were to provide information, incentives, and technical assistance to HUD consumers, partners, and other housing providers to assist in the development or design of new housing and in the management, maintenance, or operation of existing stock.
This progress report, which is being submitted to Congress pursuant to Section 154 of the Energy Policy Act of 2005, describes the actions undertaken by the Department—both program and field offices—to address energy use and consumption in some 5 million housing units nationwide. A Departmentwide Energy Task Force consisting of representatives from HUD program offices, as well as Regional Energy Coordinators in each of HUD's 10 regional offices have coordinated implementation of the Energy Action Plan.