Residential Panels Benchmark Requirements
Release Date:
September 2004 (132 pages)
Posted Date:
November 30, 2005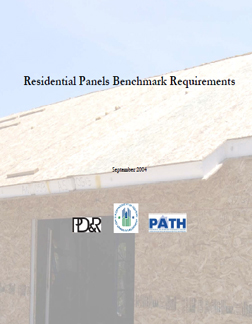 This Partnership for Advancing Technology in Housing research identifies the panelized wall systems currently available in the U.S. and international markets. The report describes their technical specifications, how they perform, and in what applications they are most used. The standard performance criteria that all panelized wall systems need to meet in order to integrate with existing methods of construction are described. The three areas within the wall panel market that were the focus of the research were systems types, code compliance, and performance measures. Research efforts included the development of a panelized system matrix, descriptions of various panel types, performance measures inherent in panelized systems, and areas of code compliance in panelized systems. The study concludes with a "Future Strategies Report," based on the research, on what direction HUD should take with future research into panelized systems.