Eliminating Regulatory Barriers to Affordable Housing: Federal, State, Local, and Tribal Opportunities
Release Date:
January 2021 (138 pages)
Posted Date:
January 19, 2021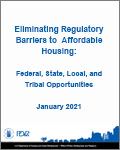 This report was created in response to the high cost of housing in many highly regulated housing markets throughout the United States that share a common concern: a lack of housing supply due to burdensome regulatory regimes. HUD worked to bring Federal, state, local, and tribal governments, private sector representatives, and many other stakeholders together to discuss housing affordability challenges and potential solutions to those challenges. With the understanding that no two places are the same, and respecting the need for States and localities to make their own policy decisions, these discussions have been crucial to the development of this report. This report describes the activities through which HUD obtained stakeholder input, what constitutes a regulatory barrier, and the importance of local context in housing markets. The report also highlights important actions the Federal Government is taking to reduce Federal regulatory barriers and identifies State, local, and Tribal activities to increase housing supply and reduce costs, some of which may be useful models for other jurisdictions. The report also discusses ways in which the Federal Government can encourage and support jurisdictions to increase housing supply across income levels.

State, Local, And Tribal Opportunities