Length of Stay in Assisted Housing
Release Date:
October 2017 (42 pages)
Posted Date:
October 11, 2017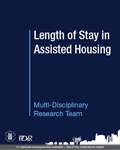 This study examines the length of time that households participate in assisted housing programs administered by the U.S. Department of Housing and Urban Development (HUD). The research uses HUD administrative data from 1995 through 2015 to examine program and household variations and trends in length of stay and factors affecting length of program participation. The typical household in assisted housing stays for about 6 years, but the average length of stay varies by household type. Elderly households stay about 9 years and non-elderly families with children stay about 4 years. The average length of stay in assisted housing is generally increasing for most cohorts of assisted households, influenced by factors such as household characteristics and market conditions.