Opting In, Opting Out a Decade Later
Release Date:
May 2015 (64 pages)
Posted Date:
June 25, 2015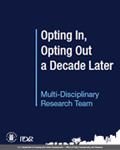 This study updates the HUD report Multifamily Properties: Opting In, Opting Out and Remaining Affordable, prepared by Econometrica and Abt Associates in 2006. The original report examined the loss of affordable housing units associated with HUD's Section 8 project-based rental assistance and Section 236 and 221(d)(3) subsidized mortgage programs. The authors analyzed property-level data to identify the physical, financial, location, ownership and tenant characteristics associated with opt-outs from rental assistance programs, prepayment of subsidized mortgages, and enforcement actions by HUD.
The original study used cross-tabulation and multivariate regression analysis to identify characteristics associated with losses to the HUD-assisted inventory between 1998 and 2004.