A Study of the HUD Minimum Property Standards for One- and Two-Family Dwellings and Technical Suitability of Products Programs, March 2003
Posted Date:
April 1, 2005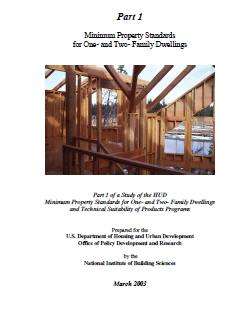 Through various regulatory requirements within its insurance programs, HUD has had a great influence on the design and construction of much of the nations' housing stock. Through its predecessor agency, the Federal Housing Administration (FHA), the Department, as early as the 1930's, established various construction standards to assure that the housing it insured met minimum requirements for construction quality, safety, and durability. Over time, the Minimum Property Standards (MPS) gained influence far beyond its originally intended role of reducing risks for FHA-insured properties. The MPS has been included in numerous HUD programs and has been a significant factor in the development of national model building codes and their subsequent adoption by thousands of local communities. A related HUD program on the Technical Suitability of Products (TSP) provides acceptances for new products and systems for FHA-insured housing.
Over the past twenty years, the Department, through a series of regulatory reforms, has significantly reduced the role and importance of the MPS and TSP programs, especially for single-family housing. However, many outdated regulations remain "on the books," as do various vestigial administrative requirements. This study examines the history of both the MPS and TSP programs, assesses their continued, albeit reduced, impact on the single-family operations of the Department as well as on the larger housing industry, and makes a series of recommendations for legislative, regulatory, and administrative reforms. The study does not address the need for, or continued relevance of, the MPS and related programs in the multifamily operations of the Department.
Additional Downloads:
Download Executive Summary
(*.pdf, 310 KB)
Download Part I:
Minimum Property Standards for One- and Two-Family Dwellings(*.pdf, 589 KB)
Download Part II:
Technical Suitability of Products Program (*.pdf, 400 KB)