Partner Satisfaction With HUD's Performance: 2010 Survey Results and Trends Since 2005
Release Date:
May 2011 (119 Pages)
Posted Date:
October 11, 2011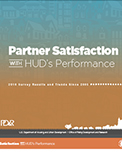 Consistent with the outcome measurement requirements of the Government Performance and Results Act (GPRA) of 1993, the U.S. Department of Housing and Urban Development (HUD) has sponsored several waves of third-party confidential surveys of its key program implementation partners—intermediaries that deliver HUD's programs to end customers. The surveys assessed partner satisfaction with HUD's performance, considered integral to enhancing agency accountability, improving program delivery, and ensuring quality customer service. Conducted in 2001, 2005, and 2010, the surveys covered many different aspects of HUD-partner relationships. Complete results of the 2001 and 2005 surveys are posted on HUD's HUDUSER website. This report covers the 2010 surveys.
2010 Survey Data Binders: