Strategies for Improving Homeless People's Access to Mainstream Benefits and Services
Release Date:
March 2010 (287 pages)
Posted Date:
March 24, 2010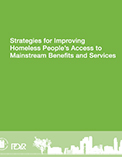 The U.S. Department of Housing and Urban Development (HUD) has been funding transitional housing, permanent supportive housing, and related supportive services projects for homeless people since 1988, under the authority granted by the Stewart B. McKinney Homeless Assistance Act of 1987 and its subsequent modifications. When HUD began funding these projects under its Supportive Housing Program (SHP) as competitive grants, and later (starting in 1996) through the Continuum of Care (CoC) process, it gave applicants discretion to use HUD homeless funds for whatever mix of eligible activities they preferred. As a result, by 2000, nearly 60 percent of HUD homeless funds were being used by communities for services such as daycare and drug treatment, while the remaining funds were used for housing.