Quality Control for Rental Assistance Subsidy Determinations: Final Income Match Report FY 2010
Release Date:
September 2011 (14 pages)
Posted Date:
January 29, 2015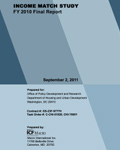 As part of the Quality Control for Rental Assistance Subsidy Determinations Study, the U.S. Department of Housing and Urban Development (HUD) has contracted with ICF Macro to conduct an income match between the National Directory of New Hires (NDNH) income data and the Quality Control (QC) income data collected during field data collection. All household members in the FY 2010 HUDQC study were matched through their social security numbers with the Enterprise Income Verification (EIV) system and NDNH files. This report includes results of the income match for the PHA-administered Public Housing, Section 8 Housing Choice Voucher, and Moderate Rehabilitation programs; and the Housing-administered Section 8, Section 202 and Section 811 Project Rental Assistance Contracts (PRAC) and Section 202/162 Project Assistance Contracts (PAC). The findings from the FY 2010 analysis of NDNH data indicate that intentional unreported income results in an estimated overpayment of $203.2 million in annual HUD subsidy costs.

This report is part of the collection of Quality Control reports.
Click here to access the latest report in this series.