4 Papers on Housing Design: Monographs on Site and Unit Planning
Release Date:
September 1942 (40 pages)
Posted Date:
June 4, 2021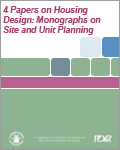 This historic National Association of Housing Officials (NAHO) publication is the association's re-production of four magazine articles addressing housing design, war housing, and residential planning. The articles are prefaced by a forward from NAHO associate director Edmond H. Hoben and are as follows: "The Architecture of Defense Housing" by Eero Saarinen; "Housing from the Tenant's Viewpoint," by Elisabeth Colt, originally published in the April 1942 Architectural Record; "What's the Matter with Our Site Plans" by Albert Mayer, reproduced from the May 1942 issue of Pencil Points; and "Planning Housing for People" by Catharine F. Lansing.

This report is part of the collection of scanned historical documents available to the public.