A Report on Housing Conditions in Montreal Based on a Survey Undertaken by the Department of Planning and Research of the Montreal Metropolitan Commission
Release Date:
January 1938 (48 pages)
Posted Date:
March 19, 2018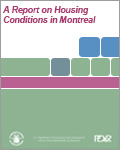 This report describes the conditions of the housing market in 1930s Montreal, Canada. The authors discuss the problem of unsatisfactory housing, especially for low-wage workers, and provide an overview of recent publications quantifying the city's housing situation. The report also relays the findings of a housing survey performed by the Montreal Metropolitan Commission's Department of Planning and Research.

This report is part of the collection of scanned historical documents available to the public.