Codebook for the American Housing Survey Data Base: 1973 to 1993
Release Date:
January 1990 (462 pages)
Posted Date:
February 2, 2021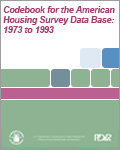 This historic document is a 1990 codebook covering 20 years and 35 iterations of the American Housing Survey (AHS). A codebook is a technical publication intended to provide information on the structure, contents, and layout of a data file, in this case historic data tapes. This codebook consists primarily of lists of variables corresponding to each question for the 1973 – 1993 AHS. This document was prepared for HUD by Abt Associates, which took over Columbia University's maintenance of the AHS codebook in 1982. The American Housing Survey is performed every other year to supplement the U.S. Census Bureau's 10-year Population and Housing Census.

This report is part of the collection of scanned historical documents available to the public.