How Well Are We Housed? 1. Hispanics
Release Date:
September 1978 (15 pages)
Posted Date:
March 12, 2019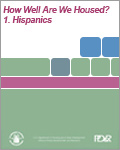 This historic report, the first in a six-part series on housing conditions, describes the housing conditions of Hispanics in the U.S. A summary of a section from a larger and more technical housing study authored by George Washington University professor Anthony Yezer, this publication is based on data gathered during the 1975 and 1976 American Housing Surveys. A Spanish-language version of the report, titled "¿Cuán Buenas son Nuestras Viviendas?," is also available.

This report is part of the collection of scanned historical documents available to the public.