How Well Are We Housed? 5. Rural
Release Date:
November 1979 (13 pages)
Posted Date:
March 12, 2019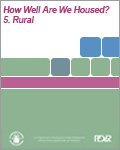 This historic report, the fifth in a six-part series on housing conditions, describes the housing conditions of households located in rural areas. A summary of a section from a larger and more technical housing study authored by George Washington University professor Anthony Yezer, this publication is based on data gathered during the 1975 and 1976 American Housing Surveys.

This report is part of the collection of scanned historical documents available to the public.