Evaluation of HUD's Rental Assistance Demonstration (RAD): Interim Report
Release Date:
September 2016 (283 pages)
Posted Date:
September 21, 2016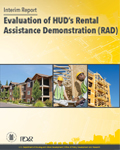 The Rental Assistance Demonstration (RAD) was established under the Consolidated and Further Continuing Appropriations Act of 2012 to provide public housing authorities (PHAs) with new options for preserving public housing, by converting their public housing projects to the U.S. Department of Housing and Urban Development's (HUD's) project-based Section 8 assisted housing platform. The primary intent is for PHAs to use long-term project-based Section 8 contracts to leverage external capital for preserving their low-income housing assets while protecting existing residents. In authorizing RAD, Congress added a requirement that HUD report on the program's impact on (1) the preservation and improvement of former public housing units, (2) the amount of external capital leveraged as a result of RAD conversion, and (3) the effect of conversion on residents. This report is the first step in that evaluation process.
Click here for Interim Summary report

This report is part of the collection of Rental Assistance Demonstration (RAD) reports.
Click here to access the latest report in this series.