Our Nonwhite Population and its Housing: The Changes Between 1950 and 1960
Release Date:
July 1963 (118 pages)
Posted Date:
July 23, 2021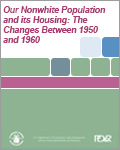 This historic publication is based on data collected by the Census Bureau in the 1950 and 1960 Censuses of Population and Housing. This report showed that as a group nonwhites were far less satisfactorily housed than whites.
This document contains language that was considered acceptable at the time of its original publication. It is made available uncensored for historical accuracy.

This report is part of the collection of scanned historical documents available to the public.