Technique for a Survey of Low-Rent Housing Needs
Release Date:
November 1940 (169 pages)
Posted Date:
January 15, 2021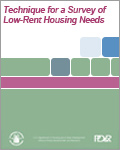 This historic document provides technical instruction for conducting a large-scale survey of a city's slum areas, in order to identify households in need of assistance to move out of substandard housing. The survey design is intended to furnish a local housing authority with relevant information about households in need of help, so that interventions may be made.

This report is part of the collection of scanned historical documents available to the public.