A Comparison of the Experimental Housing Allowance Program and Great Britain's Rent Allowance Program
Release Date:
April 1978 (66 pages)
Posted Date:
April 29, 2021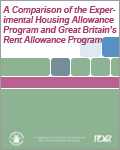 This historic report compares HUD's Experimental Housing Allowance Program (EHAP) to Great Britain's Rent Allowance Program (RAP). These programs were contemporaries of one another, each launching in the early 1970s, though with differing goals — EHAP as an experiment to evaluate the outcomes of issuing direct housing assistance to eligible households in specific test areas, and RAP as a social program to ease inequalities within the country's housing system. The authors compare the basic features of each program, the participating populations, the outcomes achieved, and the costs incurred.

This report is part of the collection of scanned historical documents available to the public.