A Decent Home: the Report of the President's Committee on Urban Housing
Release Date:
December 1968 (260 pages)
Posted Date:
April 17, 2020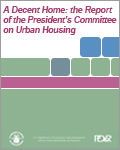 A historic report submitted to President Lyndon B. Johnson, this document contains analyses of the housing problems facing the United States in the late 1960s. The publication primarily concerns itself with two questions posed by Johnson's administration in the summer of 1967: how might the private sector be induced to provide housing for the poor, and what tools might be effective to permit the remediation of urban slums? The 260-page report provides the committee's findings in these and other areas.

This report is part of the collection of scanned historical documents available to the public.