A Selected List of References on Housing for the Use of Teachers and Students
Release Date:
February 1945 (12 pages)
Posted Date:
December 31, 2020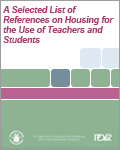 This historic bibliography is a selection of then-contemporary texts on the subject of housing and planning, primarily published between 1938 and 1944. The selections were made by Elizabeth L. Carey with the intention of educating students and assisting teachers.

This report is part of the collection of scanned historical documents available to the public.