A Selected Reference Guide to Fair Housing
Release Date:
April 1984 (23 pages)
Posted Date:
June 4, 2021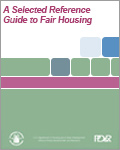 This historic guide, produced for Fair Housing Month 1984, provides an overview of four topic areas related to fair housing and recommendations for further reading. The topic areas are: the extent of discrimination in housing markets across the country; means of testing for discrimination; approaches to achieving fair housing; and laws related to fair housing.

This report is part of the collection of scanned historical documents available to the public.