Actuarial Handbook of the Federal Housing Administration
Release Date:
June 1940 (242 pages)
Posted Date:
March 27, 2018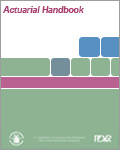 This document consists primarily of tables for use in calculating interest rates, discounts, and monthly payments for FHA mortgages. This 1940 handbook replaced the previous 1936 edition.

This report is part of the collection of scanned historical documents available to the public.