Administrative Fee Study: Section 8 Existing Housing Program, Volume I – Technical Report
Release Date:
August 1981 (169 pages)
Posted Date:
April 17, 2020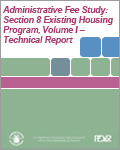 Prepared by Cooper and Lybrand for HUD's Office of Policy Development and Research, this historic report analyses the costs reported by public housing agencies for administrating the Section 8 Existing Housing Program over a period spanning 1978-1979. At the time of the publication's release, public housing agencies received a one-time fee of up to $275 for each unit added to the program, plus 8.5% of the Fair Market Rent of a participating unit for each month that the unit was in use. The report found this fee structure appropriate for expanding programs, but less effective for programs that had already attained stable conditions.

This report is part of the collection of scanned historical documents available to the public.