Administrative Fee Study: Section 8 Existing Housing Program, Volume II – Appendices Month and Year: August 1981
Release Date:
August 1981 (175 pages)
Posted Date:
April 17, 2020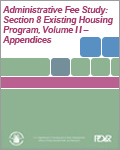 Prepared by Cooper and Lybrand for HUD's Office of Policy Development and Research, this document is the appendices of a historic report analyzing the costs incurred by public housing agencies administering the Section 8 Existing Housing Program. This publication is the second and final part of the two-volume report.

This report is part of the collection of scanned historical documents available to the public.