Affordable Housing Through Energy Conservation: a Guide to Designing and Constructing Energy Efficient Homes
Release Date:
June 1989 (104 pages)
Posted Date:
June 4, 2021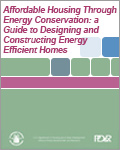 This historic guide, intended for use by homebuilders, financial institutions, and other professionals, is meant to provide a means to determine the cost effectiveness of different energy conservation options for site-built homes. The guide was published in conjunction with a software program called PEAR, a user's manual with instructions for using PEAR, and a technical support document describing the database, operating assumptions, and algorithms used in the program.

This report is part of the collection of scanned historical documents available to the public.