Assessing Hedonic Indexes for Housing – Housing Assistance Supply Experiment
Release Date:
May 1980 (54 pages)
Posted Date:
January 27, 2021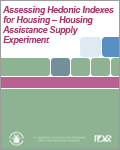 This historic report evaluates the use of hedonic indexing for housing services by comparing two indexes, one fit to the rental housing market of St. Joseph County, Indiana and the other fit to the market of Brown County, Wisconsin. The publication was produced by the Rand Corporation as part of the HUD-sponsored Housing Assistance Supply Experiment, and presented at a Western Finance Association meeting.

This report is part of the collection of scanned historical documents available to the public.