Assessment of American Indian Housing Needs and Programs: Final Report
Release Date:
May 1996 (301 pages)
Posted Date:
April 24, 2020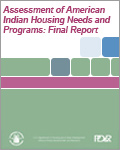 Prepared for HUD by the Urban Institute's Center for Public Finance and Housing, this historic report details housing conditions and resources in Native American communities. The report utilizes special tabulations of Census Bureau information, surveys, site visits, and interviews with local leaders and housing officials. The findings of the study confirm the existence of serious housing problems in American Indian and Alaskan Native communities, especially in Tribal Areas such as reservations.

This report is part of the collection of scanned historical documents available to the public.