Budget Estimates on Equipment for Tenant Activity Facilities for Family Dwelling Projects
Release Date:
August 1943 (7 pages)
Posted Date:
June 9, 2020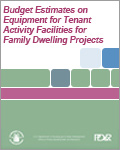 This historic bulletin, written for use by regional FPHA staff, provides estimates of the cost of furnishing and equipping service facilities in public housing projects. The document provides lists of acceptable prices for items needed in social rooms, game rooms, libraries, clinics, community kitchens, and outdoor spaces.

This report is part of the collection of scanned historical documents available to the public.