Building Material Supply
Release Date:
February 1948 (90 pages)
Posted Date:
June 5, 2018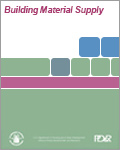 This historical report details the impact of building material shortages on the home construction industry in the immediate wake of World War II. The document includes a review of trends since V-J Day in 1945, a summary of the building supply situation in 1946, and predictions regarding future supply problems.

This report is part of the collection of scanned historical documents available to the public.