Building the Solar Home: Some Early Lessons Learned
Release Date:
January 1978 (23 pages)
Posted Date:
January 31, 2019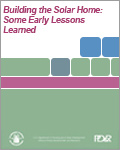 This technical report, prepared by Dubin-Bloom Associates for HUD with the assistance of the U.S. Department of Energy, examines the findings of the first two cycles of the five-cycle HUD Residential Solar Heating and Cooling Demonstration Program. The authors discuss the components of residential solar systems, considerations related to installation and maintenance, the role of the solar system manufacturer, and more. This publication is the second in a series, preceded by Selling the Solar Home: Some Early Lessons.

This report is part of the collection of scanned historical documents available to the public.