College and University Facilities Survey, Part 1: Cost and Financing of College and University Buildings, 1951-55
Release Date:
January 1959 (36 pages)
Posted Date:
January 31, 2019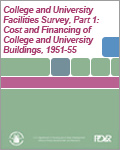 This historical report describes the findings of a 1951—1955 survey focused on college and university facilities. The first of a four-part series of reports, this report explores the cost and financing of buildings related to higher education. The survey found that over the 5-year period, higher education institutions invested nearly $1.8 billion in the construction of 3,272 physical facilities. This report was prepared for the Office of Education of the U.S. Department of Health, Education, and Welfare.

This report is part of the collection of scanned historical documents available to the public.