Community Empowerment: A Guide to Building Strong Resident Councils
Release Date:
January 1991 (53 pages)
Posted Date:
February 18, 2021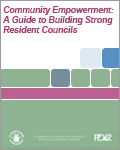 This historic guidebook, produced by the Pittsburgh HUD Office for use by residents of public housing communities, describes the processes for forming, maintaining, and conducting a public housing resident council. Resident councils are a means for public housing residents to organize themselves and exert control over their living situations, for mutual empowerment and benefit. This updated version of the guide was republished in August 1995.

This report is part of the collection of scanned historical documents available to the public.