Construction Contract Documents for Trailer, Temporary, or Permanent Defense Housing Projects
Release Date:
March 1954 (142 Pages)
Posted Date:
November 13, 2018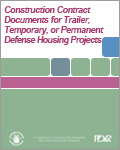 This historical bulletin provides templates and instructions for the production of contract documents used during the commission of defense housing projects. The document was designed for use by Public Housing Administration field offices, local authorities assisting in project development, and architect-engineers.

This report is part of the collection of scanned historical documents available to the public.