Conversion Accounting Procedures
Release Date:
November 1958 (513 pages)
Posted Date:
May 11, 2020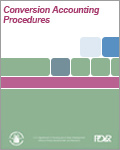 This historic memo, issued by the assistant commissioner for administration of the HHFA's Public Housing Administration to the executives of local and regional authorities, describes new procedures and requirements relating to accounting. The changes became effective on the first day of fiscal year 1958, October 1. The memo includes attached conversion charts.

This report is part of the collection of scanned historical documents available to the public.