Cost and Time Associated with New Multifamily Housing Construction in New York City
Release Date:
January 1969 (67 pages)
Posted Date:
February 10, 2021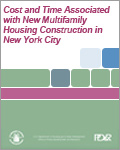 This historic publication discusses the monetary and time costs of new multifamily construction in New York City, using data reported by the New York City Housing Authority, the Federal Housing Administration, and HUD's Housing Assistance Administration. The authors focus primarily on low-income housing constructed under programs administered by these three organizations.

This report is part of the collection of scanned historical documents available to the public.