Counseling for Delinquent Mortgagors II: A Staff Study
Release Date:
January 1977 (73 pages)
Posted Date:
December 31, 2020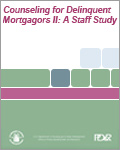 This historic report is an analysis of the impact of a $300,000 HUD demonstration program to provide counseling for 1,500 delinquent mortgagors in five cities between July 1974 and January 1975. The purpose of the study was to evaluate whether the provided service reduced foreclosures, and perform cost-benefit analyses of the default and delinquency counseling.

This report is part of the collection of scanned historical documents available to the public.