Counseling for Delinquent Mortgagors: A Staff Study
Release Date:
November 1975 (79 pages)
Posted Date:
December 31, 2020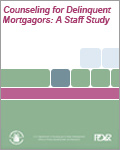 This historic report is an analysis of the impact of HUD-funded counseling for delinquent mortgagors who had purchased homes under the Section 235 and 237 housing programs. The purpose of the study was to evaluate whether the HUD-sponsored default and delinquency counseling, which was carried out in late 1973, reduced foreclosures.

This report is part of the collection of scanned historical documents available to the public.