Creating a Local Advisory Commission on Regulatory Barriers to Affordable Housing
Release Date:
September 1992 (20 pages)
Posted Date:
February 10, 2021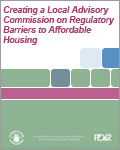 This historic guidebook, published by the Office of Policy Development and Research's Regulatory Reform for Affordable Housing Information Center, provides information about organizing a local advisory commission for the purpose of removing regulations that contribute to housing affordability problems. The publication explains regulatory barriers, means to evaluate unmet affordable housing needs at the local level, methods to build community support, and more.

This report is part of the collection of scanned historical documents available to the public.