Critical Material Lists for FPHA Standard Dormitory Project Facility Buildings and for Cafeteria Equipment
Release Date:
October 1943 (119 pages)
Posted Date:
July 9, 2020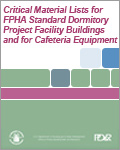 This historic bulletin provides specifications regarding the form and composition of construction elements used in FPHA dormitories, infirmaries, cafeterias, and other projects. The publication lists acceptable variations, sizes, materials, and other characteristics of buildings and their mechanical components.

This report is part of the collection of scanned historical documents available to the public.