Cross Index: Operation Breakthrough Matrix Construction Specifications Institute Uniform System
Release Date:
September 1970 (21 pages)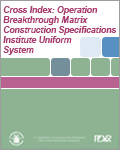 This historic technical document is a cross index between the matrix intercepts from the NBS publication "Guide Criteria for the Design and Evaluation of OPERATION BREAKTHROUGH Housing Systems" and various titles of the Construction Specifications Institute's Uniform System. It was prepared by James L. Haecker of the Building Research Division of the Institute for Applied Technology for the U.S. Department of Housing and Urban Development. "Operation Breakthrough" was a Nixon-era program to develop new housing technologies and building methods.

This report is part of the collection of scanned historical documents available to the public.