Data Management System: Part 1, Fieldwork Data and Data Transfer Specifications
Release Date:
July 1972 (17 pages)
Posted Date:
January 31, 2019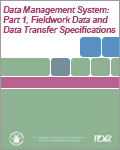 This working note was prepared for HUD's Office of Research and Technology as part of the Housing Assistance Supply Experiment. The document describes the procedures and processes by which data was prepared for analysis. This working note is the first in a series.

This report is part of the collection of scanned historical documents available to the public.