Data Management System: Part I, Fieldwork Data and Data Transfer Specifications
Release Date:
July 1972 (17 pages)
Posted Date:
February 14, 2019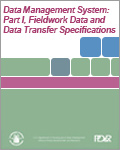 This working note provides technical instructions for the control and processing of data gathered during HUD's Housing Assistance Supply Experiment. The publication additionally provides an overview of confidentiality concerns and fieldwork considerations. Part one of two.

This report is part of the collection of scanned historical documents available to the public.