Data Resources in Housing and Urban Development
Release Date:
April 1980 (7 pages)
Posted Date:
December 31, 2020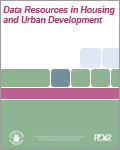 This historic brochure describes the then-contemporary data files that HUD's Office of Policy Development and Research made available to the public, including resources such as the Survey of the Developmental Needs of Small Cities and the Survey on the Quality of Community Life. The brochure includes instructions for obtaining data files in the form of physical data tapes, sent via mail.

This report is part of the collection of scanned historical documents available to the public.