U.S. National Housing Agency – A Decade of Housing
Release Date:
December 1946 (18 pages)
Posted Date:
July 9, 2019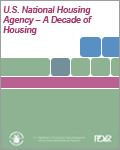 This historic publication provides a brief summary of the domestic housing sector from 1933 to 1945. The text discusses the effects of the Great Depression, America's entry into World War II, and the post-war housing market.

This report is part of the collection of scanned historical documents available to the public.