Density, Distribution & Cost
Release Date:
April 1970 (514 pages)
Posted Date:
June 22, 2018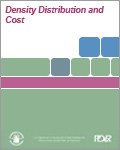 This housing study, sponsored by the University of Toronto Centre for Urban and Community Studies, was undertaken to investigate the financial feasibility and public acceptance of an alternate "middle-density" style of housing. The study evaluates the costs, benefits, and drawbacks of concentrated low-rise housing in urban areas, when compared to high-rise apartments and single-family homes.

This report is part of the collection of scanned historical documents available to the public.